TEX-DEFINE™ WEB DASHBOARD
Developing a modern collection is a global process that often needs to be tracked and processed not only at head office, but rather in a more mobile and flexible manner at locations around the entire world. This calls for a lean and transparent application structure in which smart workstations and mobile end devices are gaining even greater importance.
These demands for progressive technology have long since spread from the areas of product development and quality assurance to also encompass foreign sites, where digitization and the permanent availability of product data across and between divisions is increasingly becoming a focus of enterprises operating on a global basis. Furthermore, global interaction with suppliers, agencies and producers to procure materials and manufacturing services demands a clear definition of data distribution with exactly defined roles for all the available access rights.
Koppermann's TEX-DEFINE™ WEB DASHBOARD offers you precisely this comfort and convenience: optimum data availability – smart, transparent, representatively edited and always available on the go. We have designed every process to accurately meet your needs, making it possible for you to quickly ascertain the main aspects at first glance.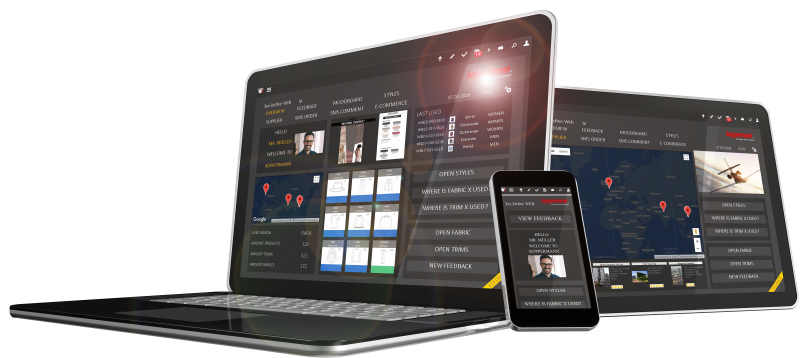 In this regard, the WEB DASHBOARD works as an add-on to your existing PLM application and can be upgraded at any time. The solution also features a clear, modular structure so you can configure your WEB DASHBOARD to meet your requirements.
Your WEB DASHBOARD keeps you clearly and comprehensively informed of pending tasks and workflow-relevant milestones and provides a perfect overview of the current status of your collection. Regardless of whether you want to pin your creative ideas to a virtual mood board or evaluate a supplier on the basis of economic parameters: the WEB DASHBOARD always offers you outstanding convenience of use with just a few clicks.
Additionally, the WEB DASHBOARD features an intuitive and easy to use option for providing feedback on articles and processes supplemented by photos and comments.
Data protection is a highly relevant topic, especially with regard to mobile workplaces, as lost or – worse still – stolen data can cause significant damage to your enterprise. That is why Koppermann's WEB DASHBOARD features an additional level of security for your data in the form of user-related authentication via email TAN, making mobile processes more secure for you. Clearly defined roles for users enable the exact distribution of information with clear restrictions for sensitive and confidential data. This means that users only get access to the datasets they need for their specific tasks.
Benefits of your Koppermann TEX-DEFINE™ WEB DASHBOARD at a glance:
• Speed up product development processes
• Link adjacent process chains and external partners
• Increase direct communication
• Compressed information – always up to date on the go
• React fast and flexibly to new requirements
• Dynamic and intuitive application
• Clear role definition for all users to guarantee comprehensive data protection
• Representative real-time data editing
• Interactive feedback
• Well-presented analysis function for precise data queries
• Simple modular design
• Increased security thanks to email TAN authentication
Would you like to get going straight away or experience the Koppermann TEX-DEFINE™ WEB DASHBOARD once again in a customized online presentation?
Our customer service team is looking forward to hearing from you and will be pleased to advise you on how to get the most out of your Koppermann TEX-DEFINE™ WEB DASHBOARD!
We're looking forward to your message!